Cisco 7960 manual user guide for cisco 7960 IP phone users 7940/7960G. Cisco 7960 manual provides a basic tutorial about how the phone works. Cisco 7960 is a customizable IP phone system that shares information with other network devices such as your computer and cellular phones. The Cisco 7960 is perfect for larger organizations and companies. It provides many different options including data and voice communications, call transfer, call hold and conference call. The Cisco 7960 Call Manage lets you customize feature settings and call services directly for the convenience of your computer.
Installation
Your Cisco 7960 should be set up by the system administrator. They will connect the phone system to the computer network and the computer system. After the installation is completed, you can setup telephone settings and options.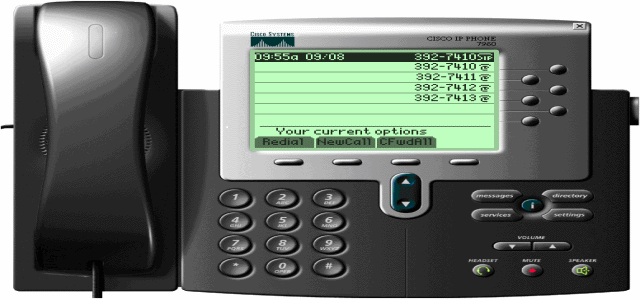 Set Up
Prior to using the Cisco 7960 phone, review and become familiar with all of the phone's features. The telephone includes a hands free headset with light indicator. When the light indicator is red, there is a new voicemail message. The navigation button is blue and is located directly in the middle of the display allowing you to be able to scroll between the menus. The menus are located on the telephone display. The display is used in conjunction with the soft key buttons allowing you to access options located in the lower portion of display.
The "Envelop" icon opens all of the voicemail settings and access. The icon that looks like an "Open Book" provides access to your company directory and your personal directory. There is also a "Check Mark" icon that gives you access to phone settings. The "Globe" icon should be used to access the menu phone services. The services that are available vary based on settings set up by the company.
How to Answer a Telephone Call
Answering a call is easy, lift the telephone receiver. When using a hands free headset, highlight the incoming call line and press "Answer". To pick up an incoming call while you are currently on the phone, highlight the line and select "Resume". The original call will be put on an automatic hold. You may also press the circular button next incoming call line you would like to answer. The call that has the longest call and the hold call time will be displayed on the screen.
Placing a Call
Press the button located next to the line you want to use. Dial the telephone number on the keypad. When you are ready to complete your call, press "End". If you accidentally dial the wrong number, push the "<<" button. That will easily erase the numbers you entered.
Free download Cisco 7960 Manual (7940/7960G)
cisco ip phone 7960 manual
,
cisco ip phone 7960
,
Cisco 7960 Phone Manual
,
cisco 7960
,
cisco systems 7960 series manual
,
cisco ip phone 7960 series manual
,
cisco ip phone 7960 how to put on hold
,
cisco end user guide 7960
,
cisco ip phone 7960 series how do you find the phone number that just called yo
,
cisco ip phone cp 7960g