Cisco 7961 manual user guide for cisco 7961G IP phone users. Cisco 7961G-GE manuals. Cisco 7961 manual provides details about the basic calling features of the Cisco IP Phone. This phone is a full featured, multiline, IP phone system. An IP phone system means that voice services are delivered through the Internet.
Overview
Cisco 7961 has a screen with a graphical display that makes the phone easy to operate. There are also soft keys that are programmable for up to 6 phone lines, voicemail access and options for hands free communication. You can use hands free communication by using the built in speakerphone or adding a hands free handset to the telephone unit. The soft keys are located under the telephone display screen. They allow the user to change their function based on the need.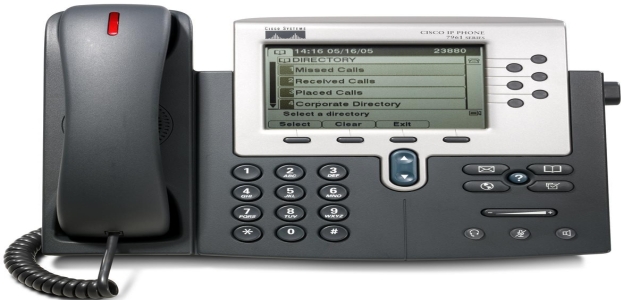 Basic Operation
Press the "Check Box" icon. This will give you access to the user settings such as ringtones. Below the feature button, you will find the volume button. Use the "Volume Setting" button to adjust the speaker and handset volume. There are three more buttons under the volume button. The "Headset" icon allows users to activate or deactivate use of the headset. The "Microphone" icon allows users to enable and disable the mute feature. The "Speaker" icon activates or deactivates the speakerphone.
You can directly dial calls by picking up the handset and using the keypad to dial your call. You can also choose the line that you want to make the call on. The Line buttons are to the right of the display. Select the desired line and dial the number using the keypad.
Hands Free Calling
You may use the headset or the speakerphone option for hands free calling. Press the "Answer" button, "Speaker" button or press the blinking line to answer the call hands free. When the call is complete, press the "Speaker" button again to end the call.
If you have attached a hands free headset to your Cisco 7961 phone, press the "Answer" button to connect with an incoming call. When you are ready to end the call but you want to keep your headset active, press "End Call". If you want to discontinue using the headset, press the "Headset" button to hang up your call.
If you have a call in progress but you need to answer another incoming call, simply press the "Answer" button or the button that is blinking amber to place the original call on hold and answer the incoming call.
cisco ip phone 7961
,
cisco 7961 user guide
,
cisco ip phone 7961 manual
,
cisco ip phone 7961 user guide
,
cisco 7961
,
cisco ip phone 7961 instructions
,
cisco ip phone 7961 series user manual
,
cisco ip phone 7961 instruction manual
,
Telephone Headsets mail
,
cisco 7961 login