Cisco 3560 is a line of fixed configuration, enterprise class switches that include IEEE 802.3af and cisco prestandard power over Ethernet. Cisco catalyst 3560 is an ideal access layer switch for small enterprise LAN access or branch office environments. It also combines the both 10/100/1000 and PoE configurations for maximum productivity and investment protection while enabling the deployment of new applications like the wireless access, IP technology, video surveillance, building management systems and remote video kiosks. Cisco catalyst 3560 is a part of larger and more scalable family of cisco catalyst switches that include the cisco catalyst 3560-E series switches, cisco catalyst 3570 and 3570-E  series switches with cisco stackwise technology and cisco catalyst 4500 and catalyst 6500 modular switches. Being united with the Cisco IOS software, the entire 3560 family offers the industry leading availability, optimized delivery, integrated security and manageability.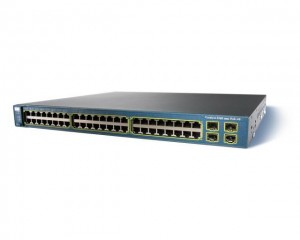 Cisco Catalyst 3560 Series Switches Data Sheet
Catalyst 3560 Switch Getting Started Guide
Catalyst 3560 Switch Hardware Installation Guide
Cisco Catalyst 3560 Software Configuration Guide in PDF (34 MB)
>>DOWNLOAD<<
Cisco catalyst 3560 series switches can provide a lower total cost of ownership for deployments that incorporate cisco IP phones, cisco aironet wireless LAN access points or any IEEE 802.3af compliant and device and hence provides the power of Ethernet. At speeds of 1000mbps, Gigabit Ethernet provides the bandwidth to meet the new and evolving network demands, boosts performance while increasing the return on existing infrastructure investments. Cisco catalyst 3560 provides a means to intelligently scale the network beyond 100 Mbps over existing category 5 copper cabling and simultaneously support PoE for maximum productivity and investment protection.
The cisco catalyst intelligent Ethernet switches, cisco systems help enable companies to realize the full benefits of adding the intelligent services into their network. The organization of the capabilities that make the network infrastructure highly available to accommodate time critical needs and secure enough to protect the confidential information is available in its form.  Cisco 3560 manual will provide you the complete installation and connectivity information.
cisco 3560 switch configuration guide
,
cisco voip device hardware manual
,
indeed2u4