Cisco 1841 router belongs to the cisco 1800 series integrated services routers. Cisco system are the best ones for small to medium sized business routing with a new line of integrated services routers that are optimized for the secure, wire speed delivery, voice and video services. Cisco 1800 series integrated services routers are the award winning series. The router 1841 is designed for the secured data connectivity and also provides additional value compare to prior generations by offering more than a fivefold performance increase and integrated hardware based encryption enabled by an optional cisco IOS software security image. This router dramatically increase the interface card slot performance and density while also maintaining support for more than 30 exiting WAN interface cards and multi-flex trunk cards. With the help of this router a secured, fast and high quality delivery of multiple, concurrent services for small to medium sized business and also the small enterprise branch offices.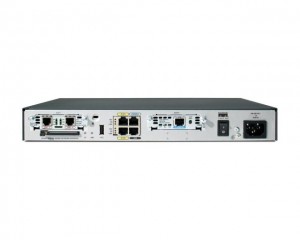 By offering a hardware based encryption on the motherboard that can be enabled with the optional cisco IOS software security image and the flexibility to integrate a wide array of modules, services and interface cards the cisco 1841 router enables business to incorporate the functions of a standalone secure data solution and cisco 1841 manual gives all the useful information. This router is specifically designed to meet the business requirement. The router has architecture features and benefits. With its high performance processor, modular architecture, integrated dual high speed Ethernet LAN ports, support for cisco IOS 12.3T, 12.4 and 12.4T features and provides for easier installation management of the router platform.
Cisco 1841 router configuration guide describes how to use the cisco IOD command line interface to perform basic software configuration for your router. The steps include the enabling, configure terminal, hostname name, and the verification that the router prompt display your hostname.
Cisco 1800 Series Integrated Services Router (Modular) Quick Start Guide
Cisco 1800 Series Integrated Services Routers (Modular) Hardware Installation Guide
Cisco 1800 series routers (Cisco 2800 series routers and Cisco 3800 series routers) Basic Software Configuration Using the Cisco IOS Command-Line Interface

cisco 1841
,
cisco 1841 Router Manual
,
ciscomanual net
,
Cisco1841QuickStart HardwareandSoftwareConfigurationGuide
,
cisco 1841 router configuration guide
,
cisco 1841 configuration guide
,
cisco 1841 manual pdf
,
ideazsp
,
influencewoo
,
unitq96